12th July 2019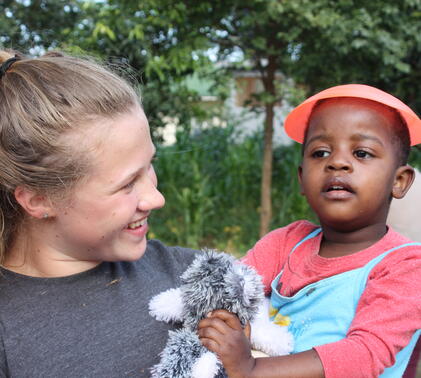 Outbound flight
We were the first ever passengers to board a brand new plane as well as have the privilege to celebrate KLM's 100th birthday. This meant that arriving in Kilimanjaro, we were greeting with a watery salute from two fire engines followed by music, singing, cupcakes and cameras!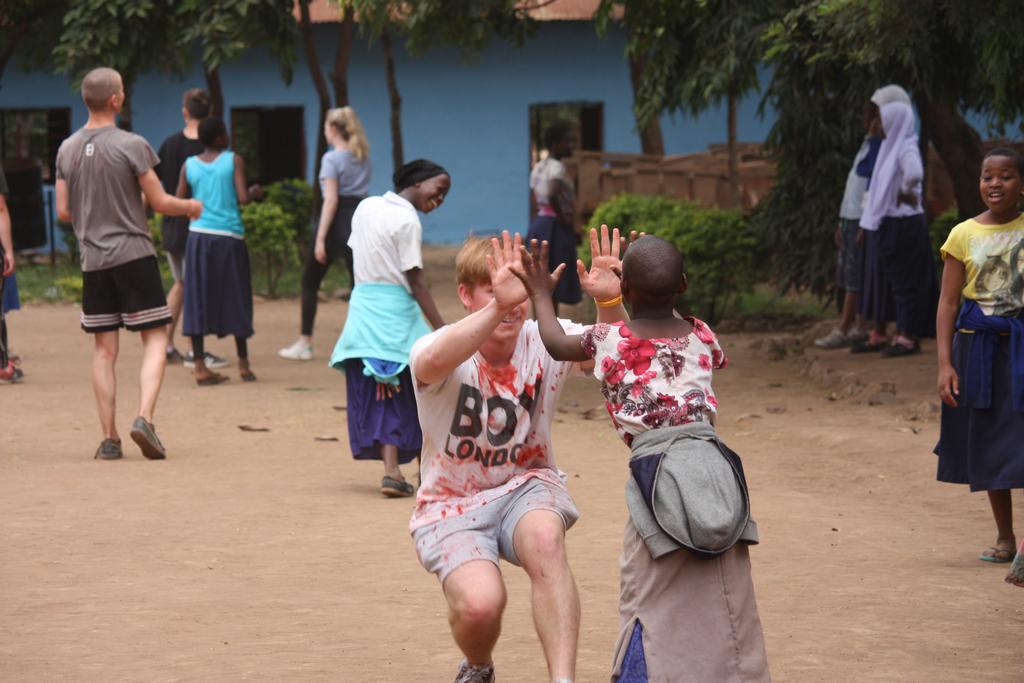 Day one
We met with the local community to help plant trees, cook food and eat with them, followed by downtime on the campus to swim in the pool. Later we visited the Upendo Orphanage to play with the children and read books to them. We enjoyed wonderful fresh avocado, bananas and fruit all day!
Day two
We spent the day at a local school painting desks, window frames and gates whilst meeting the children and attempting to communicate with them, absolutely covered in red paint! We ate amazing food for lunch and dinner and had fab weather, although the cloud has not yet cleared over the summit of Kilimanjaro. We had some free time later on in the day for swimming, basketball, sunbathing and snoozing. After that a tribe came to visit and performed songs, dances and acrobatics/gymnastics. The evening finished with purchasing some Swahili elephant trousers and Tanzanian football tops.
Day three
A long hard day making nearly 200 desks. Putting the wood onto the frames we painted yesterday, drilling eight holes in each desk then adding the nuts and bolts. Emptying four classrooms of old big wooden heavy desks (32 in each), cleaning the classroom with a traditionally made hand brush then putting all new desks in. Later we spent some time by the pool – the staff were pushed in, but it didn't matter is it was so warm! We had a lovely dinner with more fresh avocado. We bought some presents from the shop including pineapple Fanta! Seeing monkeys in the trees on campus was a highlight and amusing seeing them stealing the bananas! The cloud finally clearing and seeing the amazing summit of Mt Kilimanjaro!
Day four
Finished our community project in the Primary School. All windows painted and a whole new building painted blue. Played with the children and had a certificate presented to us. An hour round downtown Moshi to check out the shops and buy some souvenirs. Busy busy! Even the armed police office were in a rush to get through. Mt Kilimanjaro clouds cleared again! A briefing and packing session ahead of tomorrow's 5.30am start for the three-day safari.
Day five
5.30am wake up to drive for three to four hours to head to safari nearly 150km away. Our transport, Toyota Land Cruisers, made for great views and great sleep! Saw amazing animals and camped under canvas after a lovely meal.
Day six
Went to the Crater and saw loads more animals... even a rhino. Baboons are so cheeky! Lunch by the hippo lake was amazing. The evening entertainment was a local tribe singing and dancing for us.
Day seven
Mosquito bites are itchy. Monkeys steal bananas and are cheeky. We got up silly early again to watch the sunrise over Lake Manyara and Kilimanjaro in the distance. We met a local tribe, looked around their houses, dressed up and danced with them. We visited an amazing coffee plantation called Shanga with a hotel on site as well as glass and fabric workshops that disabled people work in. We made bracelets, had an amazing lunch and bought some goodies to bring home. We visited a craft market full of stores. Lots of key rings, bracelets and elephant trousers bought. A cool down in the pool this afternoon was well needed. We had an amazing meal out at a lovely restaurant, including a power cut. We surprised Mr. Scott with a cake to say thanks/goodbye and happy birthday.
Day eight
Lie in and late breakfast, amazing hot sunshine and a trip to the local town of Moshi to buy presents to take home. One last swim in the pool, followed by packing. We head to the airport for our flight at 9.00pm.