We are very proud of our students at Sidcot
We accept children with a wide range of strengths and abilities and every year they delight us with the results that they achieve.
Sidcot students achieve some outstanding results at GCSE, A Level, BTEC and the International Baccalaureate Diploma. 
The IB Diploma (introduced to Sidcot in 2007) recognises that our students will be going out into an increasingly competitive, global environment. Offering the IB gives them the chance to follow a dynamic and challenging study programme and graduate with the advantage of an internationally respected qualification.
Student Success 
This information gives an indication of how the school has performed in external examinations.
GCSE 2023
| | |
| --- | --- |
| Grades | Sidcot Score |
| 9 to 7 (A* to A) | 22% |
| 9 to 4 (A* to C) | 88% |
89% of students achieved 5 GCSE's at grade 4 or above including English & Maths, an increase on the 2022 performance.
Sidcot were significantly above the national average once again for grades 4 to 9.
Sidcot students achieved above the regional average in grades 7 to 9.
International Baccalaureate Diploma 2023
100% of students passed the IB Diploma.
Top score of 43 out of a possible 45.
Sidcot continues to significantly over achieve the world average.
A Level 2023
| | |
| --- | --- |
| Grade | Sidcot Score |
| A* to A | 22% |
| A* to C | 73% |
One student achieved four A* grades.
One student achieved an A* and two A grades.
Two students achieved three A grades and one B grade.
BTEC Sport 2023
100% pass rate.
100% Distinction and above.
Top performer achieved a Distinction, Distinction.
BTEC Business 2023
100% pass rate.
40% Distinction and above.
60% Distinction, Merit and above.
Extended Project Qualifications 2023
| | |
| --- | --- |
| Grade | Sidcot Score |
| A* to A | 57% |
| A* to C | 71% |
The EPQ, or Extended Project Qualification, offers students the opportunity to produce a project on a topic of their choice and provides the equivalent of half an A Level. Each student will embark on a largely self-directed and self-motivated project taking responsibility for choosing a topic, planning, researching and developing their ideas into a finished product.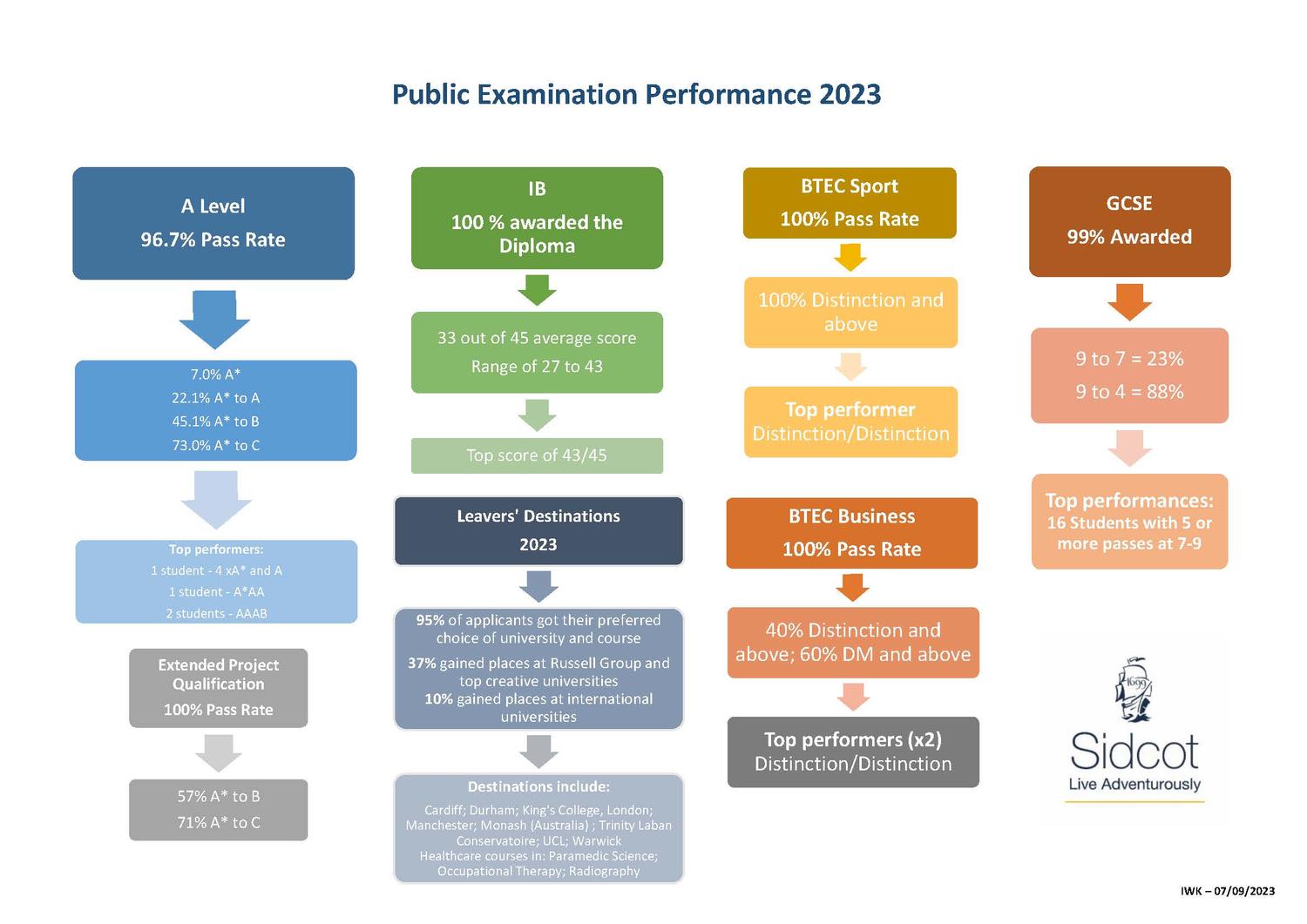 Leavers' Destinations 2023
At Sidcot we take a great deal of pride in supporting students to progress to employment or the next stage of their academic journey. Below is a summary of the Higher Education institutions and courses Sidcot students will be attending from 2023.
| | |
| --- | --- |
| Apprenticeship with Gloucester County Council  | Project Management |
| Bath Spa University | Creative Writing and Film and Screen Studies |
| Cardiff University | Economics |
|   | Neuroscience |
| Durham University | Physics |
| ICADE,   Instituto Católico de Administración y Dirección de Empresas  Madrid | Law and International Relations  |
| International Christian University, Japan | Finance |
| Into University Exeter  | Business and Marketing |
|   | Psychology |
| Into University Manchester Metropolitan | Business |
| Keele University | Radiography (Diagnostic Imaging) |
| King's College London, University of London | Liberal Arts |
| Kingston University | Pharmacology |
| Monash University, Australia | Nursing |
| Nottingham Trent University | International Business |
| Oxford Brookes University | Events Management |
|   | International Tourism and Hospitality Management |
|   | Law |
|   | Business and Management |
|   | Real Estate |
| Swansea University | Egyptology and Ancient History |
|   | Software Engineering with a Year in Industry |
| Trinity Laban Conservatoire | Dance |
| University College London | History, Politics and Economics |
| University Arts London | Contemporary Media Cultures |
|   | Interior and Spacial Design |
| University of Manchester | Management (International Business Economics) |
| University of Melbourne | Psychology |
| University of Plymouth | Computer Science (Games Development) |
|   | Architecture |
|   | Occupational Therapy |
| University of Portsmouth | Paramedic Science |
| University of Surrey | Biological Sciences |
|   | Psychology |
| University of Sussex | International Relations |
|   | Business and Management Studies |
| University of the Creative Arts | Foundation Year in Creative Media |
| University of Warwick | Economics, Psychology and Philosophy (EPP) |
| University of Winchester | Sport Coaching |