26th April 2019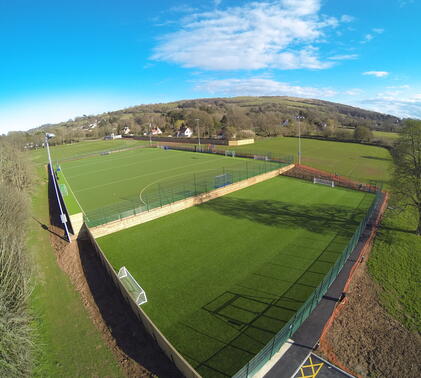 Pitchside, Poolside, Courtside
I'm sitting in the hotel in Les 2 Alps on the 2019 ski trip as I write this. A slower day as a couple of students are feeling unwell has gifted me some time to reflect and smile at such a busy but successful term. I hope to make this termly round-up a regular thing as it is really quite mind blowing what our children get up to!
As ever the PE and Games Programme has been tremendously successful this term. Rosie and I both said how lucky we have been with the weather as very few lessons have been affected. The focus on 'Communication' and 'Collaboration' has meant that the students have developed a range of skills through the sports we have offered to work better and closer with each others. Much of this learning has translated into the teams that have performed for the school.
Remember that all of the sports fixtures, team lists and details of the matches are on the Sports pages – sport.sidcot.org.uk

Matt Lloyd
Director of Sport
U12, U13 & U14 Girls' Hockey
A wonderful Hockey season and it started with a fantastic turn out for practice each Wednesday after school. The girls at these ages groups really need a mention for their unwavering commitment to training and the team. Regularly we see an AstroTurf with more than 30 players keen to develop as individuals and as a team. As a consequence the results reflected this dedication...
Third Form (U12): 6 wins and 1 loss
Lower Fourth (U13): 5 wins and 1 loss
Upper Fourth (U14): 3 wins and 3 losses
Very well done girls! A real example for Sidcot Sport.
Boys' Hockey
A massive well done to our new PE Team member, Mr Sam Loud, who has really pushed to get Boys Hockey established at Sidcot for the first time since the new Astro has opened. Regular training on Fridays has developed the foundations for a wonderful team and we are very much looking forward to next season.
Girls Netball
Always a strong part of our sports programme, the 1st team Netball has really taken a huge step. Heather Barnes and Liz Hawkins coaching a group of girls ranging from Lower Fifth to Upper Sixth and have, in this term really turned a corner. Team spirit is at an all time high, despite injuries and their results have been very pleasing with 3 wins from the last 5 matches.
The Upper Fifth (U16) group have had a more torrid season with many games annoyingly cancelled or postponed but they finished with a flourish! The girls managed to come together strongly to win the North Somerset Netball Tournament! Well done guys!
Cross Country
The Spring Term always brings the annual Cross Country relays at Tockington Manor School and Sidcot was represented by ten teams from J3 to Lower Fourth.
An amazing day with Sidcot finishing around 5th to 9th out of 20 schools in most age groups. The highlight however was the U9 girls who managed to come in First with all 4 girls running their hearts out to a well deserved Gold Medal! A real first for us at Tockington and plenty of promise for the future.
The event started with the U9 (J3 and J4) Girls and Boys races.
U9 Girls (J3 & J4):
Daisy Dwyer, Imogen Urch, Eva Crowe, Anna Williams
Maddy Yates, Alexandra Dixon, Isabelle Paterson, Vesper Peate
This race might have been the highlight of the day with Eva Crowe running a world class second leg to put the team in front, and allowing them to maintain the lead to win GOLD! All of the runners did really well and many were experiencing Cross Country for the first time ready for next year!
U9 Boys (J3 & J4):
Max Greengrass, William Boreham-Wilson, Nathan Hill, Cameron Afshar
Joseph Dykes, Reagan House, Thomas Jefferies
You may notice that the second U9 boys team went with a runner short and the organisers allowed one runner to complete two legs. Reagan stepped up and ran the first and last leg and did it in real style. A real warrior performance.
U11 Girls (J5 & J6):
Esther Wring, Jamie Greengrass, Summer Adams, Mariella Tringali
Ione Coates, Frankie Hillman-Jones, Mimi Woodliffe, Lucy Todd
Wonderful gritty performances from all of these girls with the Esther bringing her team in fifth place.
U11 Boys (J5 & J6):
Max Weatherley, Hugo Blair, Albie and Ned Noya
Patrick Orr, Josh Spyer, Adam Robbins and Freddie Hiles
This was a really tough race with the pace being run near record breaking time. The boys stuck with it and all put in a shift for Max to run in a very respectable eighth place.
U13 Girls and U13 Boys (Third Form & Lower Fourth):
Ottie Hoddell, Kerri and Kirsten Ankobia, Bea Russe
Rowan Bird, Al Buro, Beau Miller Davis, Wolfe Kelly
It was great to have Wolfe step in on the day due to a runner being unwell and all of the boys and the girls, whose race was run at the same time, worked well, encouraging each other. The team spirit here for the final race was palpable and we willed the Sidcot teams on in the face of very experienced Cross Country Athletes. Coming in respectably sixth and seventh places. Note that boys' race was so quick it was a new course record and the boys were not far behind.
In other Cross Country News…
Athletes Joe Sandiford (Third Form) and Al Buro (Lower Fourth) represented North Somerset Athletics Club at the Gwent League Cross Country Championship held in Wales last Saturday. There were eight boys in the U13 Team and they did really well with five in the top 30. The team continues in a strong position in the league.
Also, Will Sandiford (Upper Fourth) took part in the U15 boys team and was pleased to finish inside the top 20 given the very hilly course!  The team result also put the U15 boys in a good position as they head towards the end of the season.
Well done boys!
Indoor Athletics
The Lower Fourth boys team having qualified from the North Somerset Round went on to the Avon Finals at UWE as part of the massive Winter School Games. The Team of Owain Edwards, George Isgrove, Al Buro, Wolfe Kelly and Beau Miller-Davis represented themselves brilliantly despite some of the best athletes in Bristol, Bath, And Avon as their competition.
George Isgrove has gone on to achieve even more. Having won standing triple jump and 3rd in sprint at Avon schools champs representing Sidcot School, George was selected for Avon schools sports hall team competing in Torbay at the south west regionals which they won and qualified for the Nationals at the Etihad Stadium today in Manchester. George represented Sidcot School in the Avon schools sports team against 11 teams from England, Wales and Northern Ireland. George came second in the obstacle relay, first in the 4x1 relay and Avon came second overall. Fabulous stuff!
Swimming Galas
Both swimming Galas (Junior School and Senior School) were once again held this term as per tradition and were fabulous events.
The Junior Gala, as ever filled with a range of abilities and some really great performances. No records broken this year but really tight for the house cup with North House winning in the last few races.
The Senior Gala was less well attended that in previous years but a wonderful event nonetheless. On a bright Friday afternoon, a large selection of Senior School students arrived at the Sports Centre, ready to represent their houses and showcase their own swimming talents. After an eventful start, the lead was shared at the halfway stage by East and South. The early events displayed a range of different skills, from woggle races to butterfly. The Individual medley was taken by 4 outstanding performances, showing great speed and stamina across all four strokes; these went to: Stella Arnold (junior girl), Owain Edwards (junior boy), Jessica Brown (inter girl) and Michael Hooper (inter boy). With all to play for in the last race, the eventual overall winners were East house, who pipped South by 7 points.
Rugby 7s @ Roslyn Park 2019
This was the first year that Sidcot was represented in each age group of this amazing National Tournament. Although the teams found it tough it was a remarkable learning experience for all of the players involved!
Remarkable help from staff outside the Faculty and a few parents too made the week a very enjoyable one. A parent said;
Just wanted to say a big thank you for taking the time to organise and take on this amazing opportunity for the boys to play at the Rosslyn Park tournament.
My son had the most amazing time and was full of stories of the day on his return.  Such a special memory for him to take forward as well as the opportunity to see other incredible teams and players and hopefully take away a greater understanding of the game and skills.
The same parent forward the following link which was a great read I would like to recommend...
https://www.theguardian.com/sport/blog/2019/mar/26/schools-sevens-taken-more-seriously-rosslyn-park-national-tournament
Football
Once again a great season with a varied, challenging range of fixtures expertly organised by Alex Smith taking us far and wide. Good numbers at training for the Third Form (U12) team has meant that they have come together well as a team, just not getting the results they have deserved. Overall, however, we have seen great commitment from those selected and the passion to play for the school has been evident. Well done lads.
J5/6 Boys (U11):
1 win and 3 losses
Third Form Boys (U12):
4 wins, 1 draw and 1 loss
Lower Fourth Boys (U13):
Lost 3
Upper Fourth Boys (U14):
Won 2 and lost 2
Lower Fifth Boys (U15):
Lost 3
Upper Fifth Boys (U16):
Won 4 and lost 1
First Team (U18):
Won 1 and lost 8
Karting
The first round of the British School Karting Championships saw our team, brimming with confidence, land a fantastic second place and qualification to the regional finals at Thruxton Circuit in June.
The team report following the race was, surprisingly, not one of joy but frustration that they weren't first! A couple of suspect black flags and steward enquiries reminiscent of a drama filled F1 race meant they had to settle for second.
The team of Will Ford, Harvey Lawrence and the captain Riley Philips will be in the favourites for qualification to the National Finals for a second year in a row. They hope to better their 9th place in the National Finals last year!
ELAN Trust Events
Our growing partnership with the ELAN Trust of schools (https://extendlearning.org) is a very exciting one and students from Sidcot are benefiting enormously from this work. Not only are there sport tournament and events opportunities for our students to be involved with, we have seen some remarkable moments from our senior students as leaders and officials too!
In the first half term Sidcot Held a wonderful swimming gala for all of the 8 Primary Schools in the Trust as well as a Sidcot team. The event was lovely and showed the spirit of togetherness that we were hoping for with Locking school narrowing losing our to Sidcot in the overall standings.
The second half term, Sidcot hosted the J3/4 Tag Rugby Festival and it was a remarkable success but none more so than from the work of our wonderful BTEC Students!
Lee Molland, The ELAN Network PE Coordinator said: "I walked into Locking School this morning they were so keen to share their delight at the [Tag Rugby] event."
"They commented that they took the same group of children as a previous event because the children had a negative experience. They said they absolutely loved it yesterday and the children rediscovered their love to represent their school because of the environment created. They were full of praise for the students for not just refereeing the matches, but also coaching the children when they made mistakes. You and the boys did a cracking job!"
Tennis Academy
Our Tennis Academy led by the brilliant coaches, Mike and Jodie, continues to thrive with near 30 students all benefiting from coaching every Friday. With the tennis season approaching we are looking forward to some lovely outdoor sessions in the sunshine. If you would like to get involved with the Tennis Academy please contact me!
Other Successes from our very talented students...
Pole Vault
Lower Fourth student Nyree Perry attended the South West England Regional Pole Vaulting Championships on Sunday 6 January in Cardiff and was placed 1st. She is now South West Regional Champion in her age category with a finishing height of 3.01 metres.
Since then, Nyree's coach has selected her to compete in the England Championships in Sheffield at the end of February.
Well done Nyree!
Fencing
Sidcot fencers Koichiro Fueda (Upper Sixth) and Zach Townsend (Lower Fifth) fenced at Wycliffe on Sunday 13 January and achieved great results.
Climbing
A massive well done to Al Buro (Lower Fourth) who competed in the School Climbing Champs on Monday at The Church Climbing Academy in Bristol. Despite him being the only entrant representing Sidcot and his first ever comp, he managed to come 4th out of 23 in his age group. Congratulations!
Do you like climbing? If so, register your interest with Steph Tidey, Outdoor Learning Coordinator (we're hoping to start a climbing club of our own).
Swimming
Owain Edwards recorded his fastest time ever in 50m backstroke in January winning Gold and became County Champion; number one ranked time in Somerset and number four in the region. It's not even his top stroke!
We are sorry to be losing Owain but pleased he has got a place at the prestigious Swimming Specialist School Mount Kelly College in Devon.
Lucy Todd continues to grow in stature and her performances are equally strong achieving county standard times in many of her strokes. Well done Lucy!
Cricket
For the second year running we are thrilled to be partnering with Winscombe Cricket Club to help develop strong links with our successful local club and develop playing pathways for our students into cricket.
Summer Term
Looking ahead it is building towards a fun filled and busy summer term. Cricket and Rounders with a smattering of Tennis is on the cards and we can not forget the Athletics programme too. Keep an eye on the fixtures website and ask your children to listen out in PE and Games lessons!