20th March 2020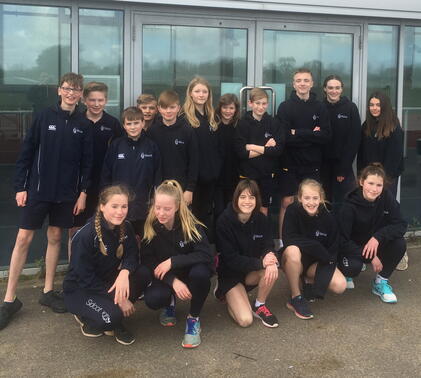 Sixteen students visited University of Bath for a day experiencing the High Performance Centre for Sport. It was a brilliant day where our students undertook activities in the presence of elite national athletes and performers.
The first part of the day was a visit to the amazing 'Jumps and Throws' hall where we completed a battery of field tests using the high-tech measuring equipment. 
The 20m Sprint was first:
Fastest Female: Nyree Perry 2.84 Seconds
Fastest Male: Fred Baldwin 2.84 Seconds
Fastest Staff: Mr Lloyd 2.87 Seconds
The Standing Jump Test was next:
Highest Jump Female: 41.6cm Nyree Perry
Highest Jump Male: 35cm Fred Baldwin
Highest Jump Staff: Mr Lloyd 38.7cm
We then completed an agility Test - 5m out and 5m back
Most Agile Female: Jamie Greengrass 2.09 Seconds
Most Agile Male: Fletcher Hann 2.29 Seconds
Most Agile Staff: Mr Lloyd 2.11 Seconds
The sit and reach test was a different ball game! A test for flexibility!
Most flexible Female: Emily Hawkins 39cm
Most Flexible Male: Fred Baldwin 22cm
Most Flexible Staff: Miss Mills 44cm!
After the tests we were treated to a volleyball session in the main sports hall which was a bit of fun and a real treat!
Johnathan Robinson, our Bath Uni staff member, gave us a fascinating tour taking us around the impressive Sports Training Village and behind the scenes in a sports science lab too.
After lunch we did a quick lap of the outdoor running track to help our food go down and then back on the bus.
Fab day!

Matt Lloyd
Director of Sport