8th March 2019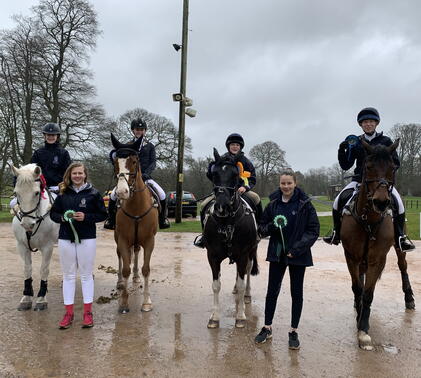 It was an incredibly early start for seven of our Sidcot Equestrian riders who ventured to Bicton Arena in the hope of qualifying for the Royal Windsor Horse Show. The weather was definitely not on anyone's side as they battled through the wind and rain of 'Storm Freya'.
The Sidcot Stripes; consisting of Harriet Blair, Archie Stamp, Betsy Hunt and Sophie Lee were the first team in and rode incredibly to set the standard for the rest of the competition. Clear rounds were achieved by Archie and Harriet with just the unfortunate pole down for Betsy and Sophie, leaving them on a team score of four faults. The Sidcot Stars were the last team in and knew they had to go clear and fast in order to qualify. Lottie Gunter, Erin Crofts, Archie Stamp and Caoimhe Collery did exactly that to finish on a team score of zero faults, and times fast enough that they finished in 2nd place and qualified for the Royal Windsor Horse Show in May this year. Individual achievements were also awarded to Archie Stamp who finished 4th and Lottie Gunter who finished 6th. Sidcot Stripes were the fastest team on four faults and finished in 4th place!
2018 was an incredibly successful year for Sidcot Equestrian Team, taking the BS Just for Schools National title and finishing the year in October as NSEA National Champions in Kesoe, Bedfordshire, and it is obvious that 2019 has showed no slowing down either. Our competitive riders out most weekends travelling to show venues across the south west.
Throughout January and February, Sidcot Equestrian has managed to qualify for the Eventers challenge championships which will be held at Hickstead in May. Over the last couple of months we have managed to secure at least one team qualification at all heights, with representation from two teams in the 80cm and 90cm classes. 
The show jumping teams were out in force at King Sedgemoor Equestrian Centre hoping to qualify for the NSEA County Championships in April at Bury Farm. Each horse and rider combination performed foot-perfect rounds to secure qualification in all classes; ranging from 70cm to 1m as well as individual success at each height. We hope we can follow on from this success at the championships in a couple of weeks' time. Good luck to Archie Stamp, Hugo Blair, Harriet Blair, Izzy Lee, Elsa Cardale, Caoimhe Collery, Lottie Gunter, Evie Puddy, Erin Crofts and Henry Blair.
Congratulations also to Erin Crofts and Caoimhe Collery who travelled to Talland in Bedfordshire and the end of last year to sit their BHS Stage 1 exam, and passed first time! They will now continue their training and start working towards their stage 2 exam. 
Sidcot equestrian is always looking for new members to get involved. We offer BHS stage 1 and 2 theory training during Thursday lunchtimes and own horse riding lessons each day after school from 4.30pm and weekends. Anyone who doesn't own their own horse but would like to give it a try, we are able to offer riding lessons at Urchinwood Manor on a Monday and Thursday. Please email equestrian@sidcot.org.uk if you would like any further details about this.

Zoë Aston
Equestrian Centre Manager