30th April 2019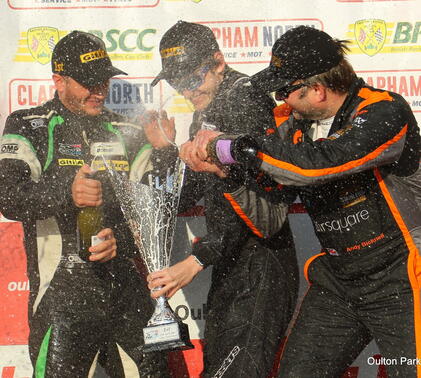 Lower Sixth student and karting enthusiast Riley Phillips has completed two of the Fun Cup races this year with his new team, Despatchbay.com. He led both races on his driving stints but unfortunately, at the first round at Brands Hatch, the team suffered mechanical failure and only managed 18th out of 27 cars. This was a very disappointing after leading for 3 hours and 156 laps.
However, after the disappointment at Brands Hatch, the team bounced back in the best way possible at Oulton Park. The 221 DespatchBay.com car took its second ever victory in three years racing with owner Andy Bicknell. And this was Riley Phillips' first win in the Championship, making history and becoming the youngest ever winner! 
With the team's car being fastest in the morning qualifying, driven by Marcus, it proved the pace of the trio of drivers – drawing ninth in the random grid draw meant that there was a bit of work to do. Riley was second fastest out of 73 drivers, with Marcus fastest. Dropping back a bit after the first hour, with Andy Bicknell taking the difficult first stint, the team changed drivers and Riley Phillips took over in 12th, he pushed hard up to 8th and then had to serve a drive-through penalty which had been given to Andy Bicknell (goes with the car). He had to recover from 12th again and at the pit stop changed over in contact with the front seven cars. Marcus Clutton then took the car to the lead. The second and third hour mark was spent battling with the Trumans car and several other at the front.
At the third hour, a safety car shuffled the pack and the team found themselves back down in 8th place with Riley back at the wheel. Some rapid driving from Riley put them back at the front. At the final pit stop the top six cars were nose to tail and it was all about the pit stop – Marcus came out in 3rd place and had to battle back to the front. During the final stint Marcus Clutton, had major pressure for the lead from the closely packed six cars but held on at the front for the win. Making history with Riley becoming the youngest ever Fun Cup winner.
WOW! Well done Riley!

Full story: https://brscc.co.uk/history-made-at-oulton-park-race-day/