5th July 2019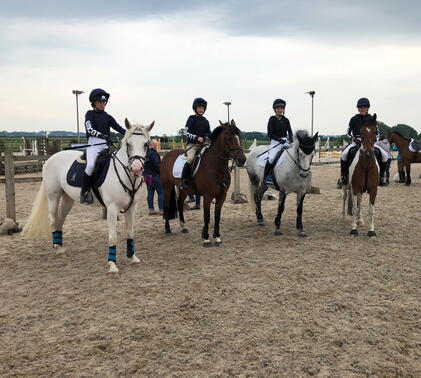 Sidcot Equestrian Team are back out competing, this time with the aim of qualifying for the NSEA National Championships in October. It was time to put the team cross county colours back on, however this time their style mark would be considered as they entered the Jumping with Style competition. With a short trip down to Kings Sedgemoor Equestrian Centre, the 70cm team of Archie Stamp, Hugo Blair, Holly Cooke and Izzy Lee were the first of the Sidcot riders to tackle to mixture of show jumping and cross country fences. Each rider performed incredibly stylish clear rounds to leave them as overall winners of the class, collecting their qualification certificate for the championships, with Individual 2nd for Holly Cooke and individual 4th for Hugo, meaning they also picked up individual qualification.
Next was the 80cm where we were lucky enough to have two teams of riders representing Sidcot School. The first team (Sidcot Stripes) of Holly Cooke, Archie Stamp, Sophie Lee and Hugo Blair were starting this class off. The lightest of touch over the show jumping section meant that Sophie, Holly and Archie had the four faults to add to their style mark with Hugo Blair finishing off this team with a speedy clear round. The style marks are not released until the final placings are announced so it was a waiting game to see if this would keep them in contention of a qualifying place. The second team (Sidcot Stars) of Harriet Blair, Archie Stamp, Henry Blair and Evie Puddy tackled the course brilliantly to finish on a clean sheet and not have to add anything to their style mark. Sophie Lee also entered her second horse, Eden, individually to make light work of the long a twisty course. There was a nervous wait to find out the results, with the commentator releasing them in reverse order. It was the perfect result for Sidcot Equestrian with both teams taking a 1, 2 finish! The Sidcot Stars won the competition, with the Sidcot Stripes close behind, meaning both teams qualified for the championships in October. Again, individual placings went to Hugo Blair (5th) and Evie Puddy who managed to secure a second place and an individual qualification on her horse, Glen.
Henry, Archie, Harriet and Evie were also riding as a team in the 90cm class and hoping to continue from their win in the previous class. After a slight alteration to the course it was time to start the competition, and the team were able to repeat on their previous performances. A zero score to add to their style mark meant they were in a very strong position, and once the class had finished it was announced that they had in fact won the class again! Both Henry and Evie were again lucky enough to pick up individual placing's; with Evie finishing second and qualifying. It was an incredibly strong day for Sidcot Equestrian with a win in every class and individual qualification as well.
It is now time for the summer holidays and a well-deserved rest for the horses, riders and of course parents who give up their weekends to take our riders and their four legged partners to compete and represent Sidcot Equestrian. In August some of our team riders will be making their way to Stoneleigh to compete at the BS Just for Schools League championships. We wish them the best of luck and hope they can retain their title!
We look forward to welcoming a lot of new faces in September and hope to continue the incredible success over the past academic year.

Zoë Aston
Equestrian Centre Manager