16th August 2019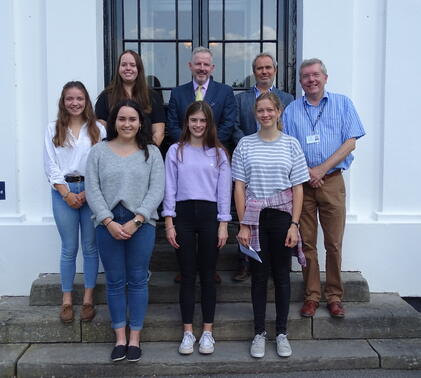 Our Upper Sixth continued the School's tradition of achieving some impressive A Level results with 95% of placed applicants confirmed at their first choice university. As a non-selective school these results are particularly notable as they demonstrate how a non-pressurised approach to exams can pay dividends.
Sidcot has developed a reputation for shunning the 'exam factory' approach to education and instead we pride ourselves on developing a love for learning in our students. This offers a platform to achieve impressive results without the need for the stressful 'hot house' style of schooling.
There were a number of standout results, including:
Lucy Slingsby who achieved an amazing A* A A in Psychology, Mathematics and Textiles respectively. Lucy will go on to study Psychology at the University of Nottingham but may study another subject before deciding a career route. "I received a lot of support at school from my teachers. They were always happy to help at any time, which I really valued. Aside from preparing me for exams, my time at Sidcot has helped me to really develop as a person."
Alexander Higginbottom obtained A A B in Mathematics, Physics and Chemistry, plus an A in Further Mathematics at AS Level. Alex will go on to study Physics at the University of Bristol. Alex said: "At Sidcot it's very easy to form a good bond with your teachers – you get the sense that they really care about their students."
Clara Mann achieved a fantastic A* A A in French, Spanish and Art respectively and is looking forward to studying an Art Foundation degree at Bristol School of Art. She also intends to apply for French and Art History alongside. "I feel very relieved to have my results and I was particularly pleased to find out that I got full marks on my French paper! Due to small class sizes at Sidcot I have been lucky to receive one-to-one support from my teachers who are truly inspiring and passionate."
Edward Willis gained A*A A in Business, Psychology and Economics. Ed will be taking a year out before attending the University of Bristol to read Business Studies. In the meantime Ed will get some work experience at Warm Glass in Wrington. "Since coming to Sidcot I have developed a greater level of independence. The teachers have the time to allow students to learn in a way that best suits them, this has really helped me achieve these results."
These results follow the Sidcot's recent success in the International Baccalaureate Diploma (IB). Sidcot offers this highly regarded international qualification as an alternative to A Levels, with its broad curriculum and emphasis on study skills, community service and internationalism. This year Sidcot Students achieved an average diploma points score of 31.9, which maintains the School's record of overachieving the International average score.
Nina Guy managed a maximum score of 45 points from a possible 45. This puts Nina in the top few hundred students taking the IB and equates to around five A*s at A Level. Incredibly, on top of the rigorous workload of the IB, Nina managed to achieve an A grade in AS Level Art.
Reflecting on her success, Nina said: "I chose the IB because I liked the broad range of subjects it offered, meaning I could keep learning more of the subjects I had enjoyed at GCSE. I did Psychology, Chemistry, Biology, English, Maths and French. Sidcot has been a very supportive environment, but it has also given me quite a lot of independence in my studies. The teachers have been amazing and the small class sizes have also been really helpful. I am applying to do Human Sciences at Oxford at the moment but I'm also looking at Anthropology courses as it's an area that I also find really interesting."
Headmaster Iain Kilpatrick commented on this year's outcome and said: "We are once again delighted with our students' achievements. However, the grades only tell part of the story; they are a blunt measure of the School's overall performance. We are determined to provide a broad and balanced education that ensures our students are equipped with the skills they need for a life outside of education. At Sidcot we develop important qualities, such as critical thinking and resilience that will prepare students for life, not just an exam."