11th August 2017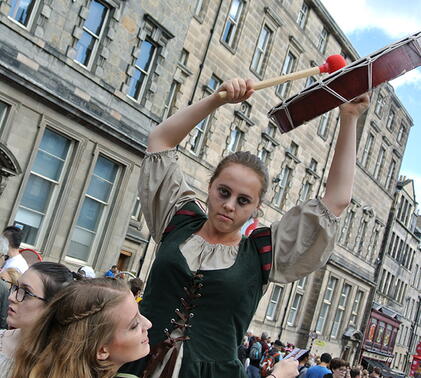 Hurly Burly Perform Three Shows at the 2017 Edinburgh Fringe
Returning to The Fringe for a third season, Hurly Burly is back to reprise its 4 star production of Death by Shakespeare along with two new children's theatre shows that are guaranteed to enthral audiences young and old.
Stone, is a 'tale of our time', that combines storytelling with original music and movement in a spellbinding parable that explores our impact on the planet, friendship and the power of hope.
See how Silas and Petunia Bile, owners of a construction company, are challenged and defeated by the creatures whose homes they have destroyed. Adults and children alike will be captivated by Pip the owl and the cunning fox Roxy and can sing along with Flora the cat as she learns that one person really can make a difference.
Grimblewitch is a must-see original work showing at Edinburgh for the first time this year. If you came to the Fringe this year, why not tweet @HurlyBurlyEd17 and tell us what you thought about our piece that explores the impact of conflict and war and how communities can rebuild peace. Fusing physical theatre, dynamic movement and music the production will take you into a fantasy world where 'a Grimblewitch comes in the dead of night, she gobbles up sadness, she munches on spite…
Following 4 star reviews of its debut in 2015 Death by Shakespeare (ThreeWeeks and Ed Fringe review 2015), has been revived it all its macabre glory. This gloriously gory amalgamation of Shakespeare's finest death scenes takes a fresh look at the Bard's beautiful words. Death by Shakespeare offers the audience the opportunity to decide who should be spared from the familiar ill-fated characters: Tybalt, Ophelia, Lady Macbeth, Pyramus and of course, Romeo and Juliet.
Charlotte Resuggan, Sidcot's Director of Drama, says: "This was our third visit to the Edinburgh Festival Fringe, and certainly our most ambitious. With 27 performers both current students and alumni, performing in three original pieces. It was a truly inspiring trip; we saw the cast involved develop in so many ways over the 12 days we were there. They became better performers but also really understood the rigours and demands of marketing themselves, working in a very close knit team and the resilience required to make it all happen (and on some occasions even sell out the venue!). The Quaker ethos of Sidcot was apparent in their conduct throughout the run, I'm extremely proud of what they achieved – we're already planning what we'll take next time..."
You can next see Hurly Burly at the Fringe in 2019.