1st February 2019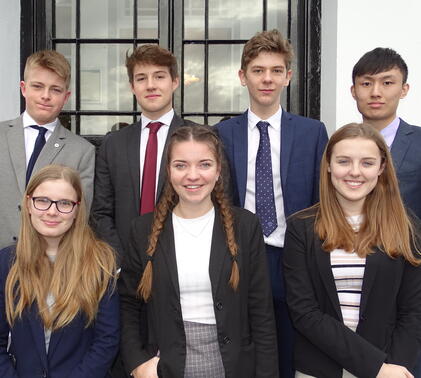 Sixth Form students at Sidcot School scooped an impressive range of EPQ results this year with a 100% overall pass rate, 76% achieving high grade passes (A* to A).
EPQ Coordinator Geoff Andrews commented on this year's outcome and said "This year's candidates have chosen a range of highly interesting topics and achieved our best ever results. We are particularly pleased with the creativity shown in student's artefact projects. The skills they have acquired reach far beyond the classroom and will prepare them for the next steps in their life journey."
There were a number of standout results including Jacob Mcgurl, who wrote about 'Can and should ageing be cured?' and was delighted with his A*. He is going to Birmingham University to read Biological Sciences. "The EPQ has helped me get onto my course and certainly made me stand out during the interview."
Kerwin Fu from Hong Kong compared the Chinese and British approaches to medicine. He achieved an A grade and plans to read Medicine at a Hong Kong University. "The EPQ  has helped me to do in depth research in a topic that I enjoy and want a career in."
Emma Kilpatrick achieved an A* for her creation of a plastic dress to raise awareness of plastic in the oceans. She is going to Heriot Watt University to read textiles and fashion. "Since completing the EPQ I have found the skills that I developed have helped me in all of my subjects."
Emily Mabbett from Cardiff is celebrating an A* for her short story annotating the life and  morals of General Custer and the events of the Battle of Little Big Horn. "The EPQ has given me an opportunity to go into more depth in a subject I am passionate about"
Alex Higginbottom achieved an A* for his exploration about the possible existence of other universes. Alex comments "The EPQ has given me valuable research skills and allowed me to look at different viewpoints about a hotly debated subject."
---
Students who completed their EPQ were: Sing Wa Fan, Kwok Yin Fu, Sebastian Harrill, Alexander Higginbottom, Alice Joyner, Emma Kilpatrick, Alfred Livesey, Jacob McGurl, Imogen Moroney, Harry Wayne, Tulsi Winterson, Ilja Bazenovs, Emily Mabbett.