14th August 2019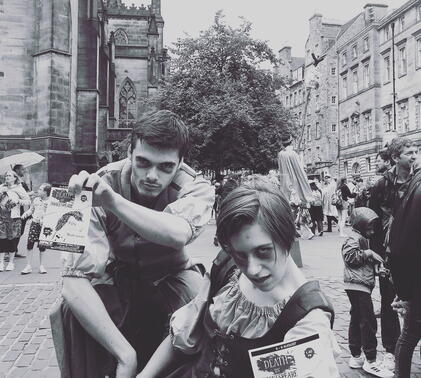 Hurly Burly presents: Death by Shakespeare & Fifty Shades of Shakespeare
Returning to The Fringe for a fourth season, Hurly Burly is back to reprise its 4-star production of Death by Shakespeare along with the brand new Fifty Shades of Shakespeare.
Fifty Shades of Shakespeare is a physically dynamic ensemble musical performance and lyrical mash-up that explores love and relationships in some of the Bard's most famous scenes. 
Following 4-star reviews of Death by Shakespeare it has been revived for a final time with a new cast. A chorus of bawdy spirits lead you through this physically dynamic amalgamation of Shakespeare's finest death scenes. Witness the madness of Ophelia, the conniving Lady Macbeth, the hilarious Pyramus and the tragedy of Romeo and Juliet, amongst others. A fresh look at the Bard's beautiful words through physical theatre, choral work and music. Successfully resurrected for its forth Fringe outing since 2013!
Reviews and acknowledgements
"A must see for Shakespeare fans." ★★★★ (ThreeWeeks)
"I did 'Delight to view these heinous deeds.'" ★★★★ (BroadwayBaby)
"An inventive journey explored with traditional Shakespearean lines, lots of movement and a modern twist to how the scenes are portrayed." ★★★★ (Voice Magazine UK)
10 Edinburgh Festival Fringe shows that shine a new light on Shakespeare (The List)