8th June 2019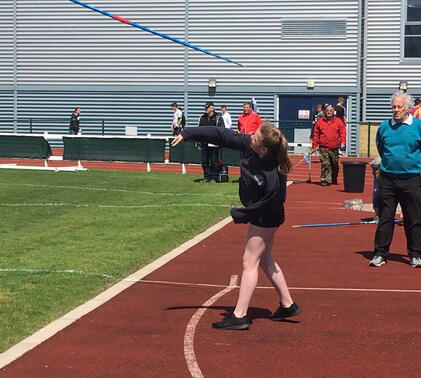 We were very proud of our students selected for the Avon Championships this year and five athletes made the trip to the SGS College stadium on a sunny but very windy day.
Issie Hoddell kicked off the day with her valiant effort in the 800m. The conditions made what is an already a very tough race even tougher. The wind on the back straight made it look as though the runners were going backwards! Issie stayed in touch for the first lap, but it was clear that the race was quick and she pushed through, coming in 6th.
Alyssa Addison was selected for two events at Inter Girls level and started with the high jump. Again, weather affected, Alyssa did very well in the early rounds clearing the early heights well and in the end cleared 1.45m, but didn't manage to clear 1.50m, leaving her in joint 3rd place. She then moved across to javelin where she was joined by our Junior Girl, Vicki Lawrence. The theme of the day – the wind, again, played its part and the competition was a very high standard. The winning throw being a massive 45m! Both girls threw well, however, Alyssa coming in 5th and Vicki a very respectable 3rd place.
Our only boy athlete, Matija Janovic, an Inter Boy shot putter also was faced with a very high level of competition and, battling through a knee injury, still did his very best. He placed 5th overall and although was disappointed he should feel proud of his achievements knowing that he only pick up the shot put this season!
Last but by no means least, our highest placed and most successful athlete competed in the Junior Boys 80m Hurdles, George Isgrove. Competing a year young (Lower Fourth competing with Upper Fifth athletes). He was also carrying an injury but this did not stop him!!! He came in second and has been selected as part of a team of four athletes to represent Avon in the Regional Finals of the Under 15s South West Schools Combined Events (Pentathlon) this weekend in Exeter. We are very proud of his determination and commitment to athletics and Sidcot – Super stuff George.
Well done all athletes we are very proud of our athletes.