12th August 2021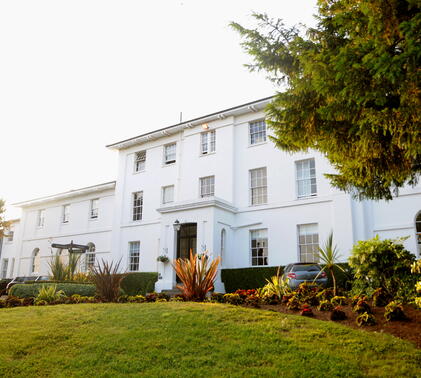 After more than a year of disruption, students at Sidcot can finally celebrate an impressive set of GCSE results. While the way in which students were assessed was different this year, the results demonstrate the commitment and aptitude of students across the whole of last year, during some very challenging circumstances.
Sidcot students achieved 49.6% of grades between 9 to 7 (equivalent to A* to A) with 95.2% of scores between 9 and 4 (equivalent to A* to C).
Headmaster Iain Kilpatrick said: "I am delighted with the performance of our Year 11 students in their GCSE examinations, which follow on from an excellent set of results at A Level, International Baccalaureate and BTEC.  Our GCSE students have had to adapt to a very different form of assessment with examinations being cancelled as a result of the impact of the global pandemic.  Instead of final exams, they have been required to work at a consistently high standard to provide a body of evidence on which their teachers have based final grades.  None of these grades were altered by the various examinations boards, which is testament to the quality of the evidence submitted and the probity of the judgements made by teaching staff."
"For all that this has been a challenging process for our students, they should be very proud of their achievements today.  Not only do they have strong passes, but they have developed a range of skills that will prove extremely useful in their studies in Sixth Form and beyond.  I would like to congratulate them all and hope they enjoy celebrating their success."
There were a number of standout performances this year:
Jessica Brown achieved an outstanding nine grade 9's and one grade 8. Jessica said; "I'm so happy with my results. I plan to stay at Sidcot for the Sixth Form to take Biology, Chemistry and Maths as I hope to go on to Imperial College to study Medicine in the future. I think the small classes and close relationship with my teachers has provided the support I needed to achieve these results."
Luca Cuckson was also awarded nine grade 9's and one grade 8. Luca said; "I'm so happy with my results, it was quite a shock when I opened the email! I really enjoy Maths and I hope to eventually go on to Oxford or Cambridge to pursue a career in Astrophysics."
Oliver Painter from Hewish attained four grade 9's, four grade 8's and a grade 7. Oliver said; "It was a huge relief to receive my results and I'm really pleased with the outcome. I'm going to be studying Drama, Music and English Literature in the Sixth Form. I love performing and I hope to go on to Drama college. I feel very lucky that even during lockdown the teachers were able to keep us motivated and support us with our studies."
Headmaster Iain Kilpatrick continued: "The success of our students is testament to their commitment to study and the support they have received from their teachers and families.  However, success in the classroom has not come at the expense of their holistic experience.  We are a busy school where students develop skills and talents in a wide range of areas – not least a sense of care and service to others.  Those who have received their results should be justifiably delighted with what they have achieved, but equally proud of the young people they have become."
The majority of GCSE students from Sidcot will progress into the school's Sixth Form where students are given the option of studying A Levels, the International Baccalaureate and BTECs in Sport and Business.