7th June 2019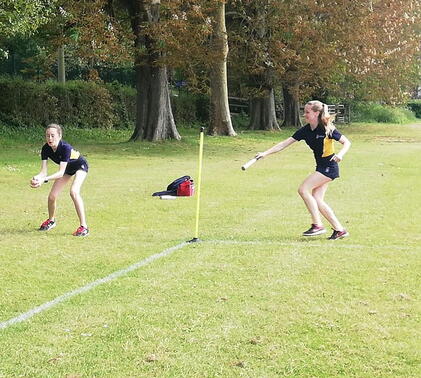 Third Form: Lost 6-5. Well done to player of the match Renee.
The Third Form team played well with great composure during their match against Broadoak, despite the difficult weather conditions. Some excellent batting gave Sidcot a convincing lead early on. Beth Townsend kept Broadoak at bay with a brilliant catch on third post. Unfortunately two missed catches allowed Broadoak to sneak to second post and take the lead by just a rounder. There was excellent determination showed from Sidcot yet again.
Lower Forth: Won 10- 4.5. Well done to player of the match Ava.
The Lower Forth had another really positive match this week against Broadoak. There was some brilliant batting from the Sidcot side, resulting in a number of rounders scored. Sidcot also kept the fielding tight, which stopped Broadoak scoring. Really well done!
Upper Forth: Won 9.5- 9. Well done to player of the match Izabelle.
This was a thrillingly close encounter between these two sides!
Broadoak went in to bat first and showed some good flair with their batting, quickly scoring some rounders (and halves) from impressive hitting. However, Sidcot fielded reasonably tightly and some good decision making, safe hands and quick stumping prevented too high a chasable score to be achieved.
Sidcot batted well. All was very close. Good rounders were scored following hard hitting and decisive running. All came down to the final ball. With the score at 9-9, it came down to the last good ball of the match... Izabelle Lee hit the ball out into third deep and made a good run to second base – scoring a safe half and holding put to ensure a score. 
A super game. Well done to all for a really good team performance. – Best of the season so far!
Lower Fifth: Won 16.5- 3. Well done to player of the match Amelie.
A very convincing win for the Lower Fifth this week. There were some brilliant catches in the deep field to get Broadoak out and some lovely team work whilst fielding. Sidcot's batting was also on form, with some very well directed shots, enabling a large amount of rounders to be scored. Well done!
We wish the Lower Forth all the best for their tournament this week!

Heather Barnes
Physical Education Team