2nd May 2019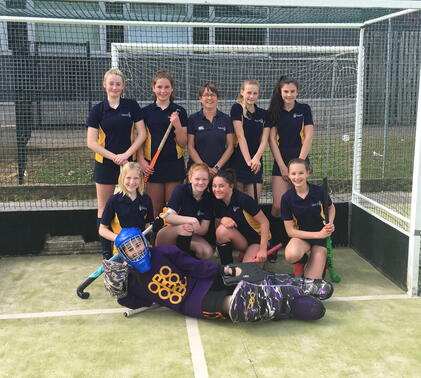 The girls approached this tournament with super enthusiasm and determination. The group stages were held at Clevedon school on Thursday 2 May and from the very first game the squad showed real desire to perform well and achieve the necessary results. All group games were won, bar a closely fought draw against Priory A team.
Sidcot progressed through to the semi-final and managed a highly convincing 3-0 victory to carry them comfortably into the south final.
It was to meet Priory A again. This time the game went our way and the girls punched their way through a strong Priory defence to score, more than once! Super stuff!
This led to a District final to be played against Backwell school the following week – last Wednesday, in fact – and at Sidcot.
Again the girls proved determined and eager – but Backwell proved equally so.
In a tight first half, Backwell scored twice which certainly left Sidcot with a challenging finale in the second half. Sidcot rose to the challenge and forged ferociously toward the Backwell goal. One attempt was successfully converted – 1-2. More pressure was exerted – and more was absorbed by the Backwell defence. A very exciting climax – but it was not quite to be.
Final score: 2-1 to Backwell.
Well done to the whole squad – a very successful season culminating in a second place finish in the District tournament which had an 17 team entry from our 12 school strong District.
I very much look forward to next season and the progression into full 11-a-side hockey with this group.

Rosie Bellinger
Physical Education Team