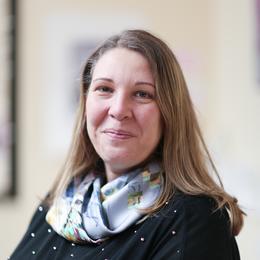 Amandine Smilevich
Housemistress
Located in the main school building, in the upper west wing. Amandine has been Housemistress of School House Girls since April 2012. Originally from Lyon, France, she has been at Sidcot since 2001, previously Deputy Housemistress of Newcombe House and Deputy Housemistress of School House Boys. Amandine teaches English as a foreign language in our EAL Department.
"School House Girls is the senior girls' house. Although the House is situated directly above the main school, (which has its advantages on a rainy day!), the homely atmosphere created by the girls and the staff is very noticeable. It is a place where you can unwind after a long day at school and you will always find someone to talk to."
"Our main aim is to enable our girls to grow up and mature in an environment where they have to make their own decisions by communicating and compromising with one another. Our girls are only two years away from university and I firmly believe that the time they spend in the House learning about other cultures will help them tremendously in their future lives. Plenty of activities are organised by the girls (and supervised by the staff) during the week and over the weekend (film nights, cooking, drawing, music etc.). As an example of a House activity, we are running a cooking project, spread over the whole year and involving all the girls. Students of the same nationality will teach the others how to cook a typical dish from their country. This kind of activity helps to develop confidence and also a sense of camaraderie. At the end, we will all get together as a House and enjoy the food together."
Amandine Smilevich – Housemistress