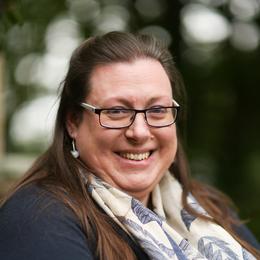 Charlotte Resuggan
Housemistress
Newcombe House is being refurbished this year, however, we are lucky to be able to use Combe House to host our younger female boarders.  Combe House is situated a short distance away from the main school building with fantastic views of the surrounding countryside. The House itself was originally built as a family home and it still has a relaxing homely environment. There is room for 21 girls aged between 13 and 16 in shared bedrooms of two or three. Everyone gets to know each other very quickly in this small and friendly house. Charlotte Resuggan has been Housemistress since 2014. Charlotte is Assistant Head (Teaching and Learning) and a teacher of Drama.
"Before running Newcombe House, I have worked at Sidcot for ten years, as Head of Drama, Teaching and Learning Co-ordinator and Deputy Housemistress of Newcombe. During that time I have thoroughly enjoyed immersing myself in the bustling and friendly fabric of Sidcot; the Quaker ethos immediately appealed to me but most significantly I have enjoyed meeting wonderful students from all corners of the world; their inspiration, creativity and sense of fun are some of the reasons why so many of the staff who join Sidcot, including myself, stay here for a long time!"
"I have been married to my husband Jake for thirteen years; he is an English teacher at Sidcot. We have two young girls: Naomi and Hattie, who are enjoying their time at Sidcot Junior School. We are excited that our children will be growing up in such a multicultural and vibrant community; only the other day we were looking on a map at the many locations that the current Newcombe girls live - Papua New Guinea, Germany, Russia, Italy, Latvia, Austria, Switzerland, France, China, Australia, not to mention Wales!"
"We are always amazed at the range of activities that Newcombe girls immerse themselves in. We have a lot of keen horse riders, who we can watch riding from our common room window that looks out over the stables and on to the beautiful Mendip Hills. Many girls are involved with school productions, or the DofE award, and all participate in the wide range of trips on offer during the week and at weekends – the shopping trips are particular favourites!"

"We like to celebrate our many different nationalities and often hold international evenings where girls can cook food from their countries that they share with others. We also like to play games in the evening or sit around our open fireplace to cosy up on a winter's evening. Our beautiful garden has a variety of areas for students to socialise in or sit quietly, and on warm evenings we can sit at our fire-pit or go up into the woods behind Newcombe to have a campfire and toast marshmallows."
"A typical Newcombe evening includes quiet time to study or relax, an opportunity to watch films, have a chat, or play Just Dance on the Wii. Lots of girls can play musical instruments so there are often guitars playing or people singing. With a wide range of activities and personalities, one of Newcombe's great strengths is that all kinds of people find fun and harmony here, together."
Charlotte Resuggan – Housemistress