11th June 2021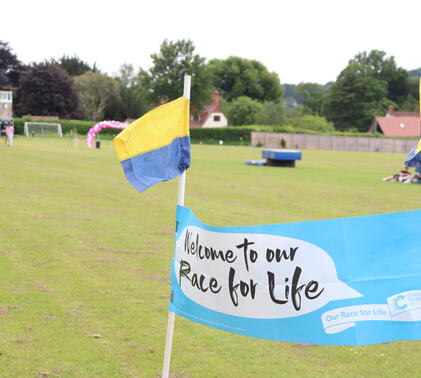 What an amazing week it has been raising Monday for Cancer Research UK! The first event started off on Monday with the first round of "Staff vs Student" dodge ball tournament. Year 7-9 played against the teachers and it was clear to see that both the participants and spectators had a great time.
On Wednesday we held our main event! The Y12/13s were down on the field setting up from 8 in the morning, rolling out tyres, setting up obstacles and marking out the 2K route. At 2pm all the students started coming down to the fields and it all kicked off. We had crazy warm ups with Mr Andrews in a superman one-zie, lots of stalls, three bouncy castles, ice creams and the main race!
I felt so privileged to see how well the Y12/13 helpers transformed our field into a buzzing festival to raise money for such an important cause. Massive well done to the students involved in the planning and organisation, it would not have been possible without them – they are truly phenomenal.
Thursday we had the second round of staff vs student dodge ball for Y10-13 and Mr Parry's head shave on Friday.
I will update you on the grand total once all the donations have been counted, but as of Friday morning, we have raised more than £4000 – thank you so much for your support!
Any more donations can be made via  https://fundraise.cancerresearchuk.org/page/sidcot-school
Ms Cheung
Photos of the event can be seen by following the link below!
Here's what our students have to say:
"Although the planning of the race for life event became stressful at times, it was such a fun job to do. From planning and organising the dodgeball events and Mr Parry's head shave to the actual race for life event, it has overall been an enjoyable task to do. Seeing the day come together and everyone having a good time made it all worth it and the fact that we were able to raise such a large sum of money became satisfying and it felt a privilege to be in the position of helping raise money for such a worthy cause. Overall, I had such a great time and I cannot wait to organise more events like this!"

Abbie Bewley – Y12 Office Holder
"A lot of time and effort from both officer holders and staff went into organising the race for life event. Everyone was extremely dedicated to ensuring that this event was a success and definitely paid off as shown by the amount if money we were able to raise. Seeing everyone have run and participate in the races and stalls made all the work worthwhile as it was very rewarding to see everything come together.
I feel very happy that we are able to hold these events as they have had such an impact on everyone involved. I am very much looking forward to holding these types of events in the future!"

Freya Anais Davies-Gallagher Y12 Charity office holder
"As someone who has personally lost people to cancer, to be able to participate and help organise the Race for Life event was incredible. It was amazing to see our community coming together and participating in what was a really fun day. I have to admit, I have immense respect for Mr Andrews who was a beacon of motivation and energy throughout the entire event! Sidcot's very own superhero super-dancer! A massive thank you also to Ms Cheung who spent hours organising the entire day, it was a wonderful experience and we are all very grateful to you for the hard work that went into it. Thank you!"
Lottie Packman - Y13 Head Girl
"Race for Life was very fun! I enjoyed the obstacle course and running with my friends, and it was great to see the whole school come together to raise some money for charity and have some fun. Everyone really came together to make the day amazing, from Ms Cheung and her team who organised it, the Officeholders who set it all up, Mr Andrews who led the Crazy Warmup with his usual enthusiasm and Mr Darvill who controlled the sound systems. I'm very proud of the Sidcotian community, and hope that every future even is met with this much deft planning and enthusiasm from everyone involved, regardless of year or station."
James Barber – Y13 Head Boy
"Helping out with the race for life was a fun and enjoyable way to end our school life, especially given the previous two years. I encourage the future sixth-form students to organise and host more of these events when circumstance allows it as its its a great way to develop leadership and teamwork skills, and strengthens inter-year relationships throughout the school."
Beau Noya – Y13 Sidcotian Link
"The 2021 Sidcot Race for Life was a very meaningful and enjoyable event for me. I liked how officeholders and other years were involved to make it all happen, it felt like an inspiring school community agenda, where everyone made their most to support and remember those who suffered due to cancer. Everyone has their own personal story with relatives, families, friends being affected by this illness. And this story has a different end for everyone. Sadly enough, in my case the story didn't finish as a happy end one, thus this was an opportunity to commemorate my grandma who sadly passed away a few years ago. I believe that supporting bioengineering and science via donations is a tremendous impact that anyone might make to make a safer and more effective treatment for cancer. I very much appreciate Ms Cheung's passion and hard work for making the event as smoothly organised and unforgettable as it was."
Lev Bogachev – Y13 International Head Boy
"I really enjoyed the race and the activities on Wednesday, as it felt good to be with other people again and just felt amazing. The race itself was fun and not too long which was good. Seeing how much effort was put into the event as a whole, by Ms Cheung and other staff members, was very nice, especially as it was for such an important thing as cancer research. It was great to see everybody getting involved, teachers and students, to raise money for this cause."
Fanny Beckmann – Y10 Student