31st January 2018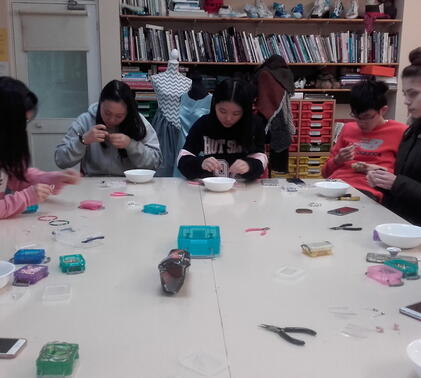 Sidcot Saturday Jewellery Making
Students have been enjoying the jewellery making activity on Saturday mornings this half term. There have been some wonderful creations from rings, to bracelets and earrings. Nicole Kwok has provided the music and I, the chocolate biscuits to fuel the concentration needed!
I was inspired by my visit to a coffee plantation when I went on the School's annual trip to Tanzania in summer 2012. I partook in a workshop on how to make bead bracelets by local people with disabilities who were supported by the plantation foundation.  Since then, I've been hooked, and enjoy making bracelets and other jewellery in my free time. 
We hope to make a selection of jewellery to put on sale at the Garden Party in June to raise funds for the orphanage we support as part of this year's trip to Tanzania.

Nicola Goldhawk
Sidcot Saturday Coordinator / Teacher of History