15th March 2019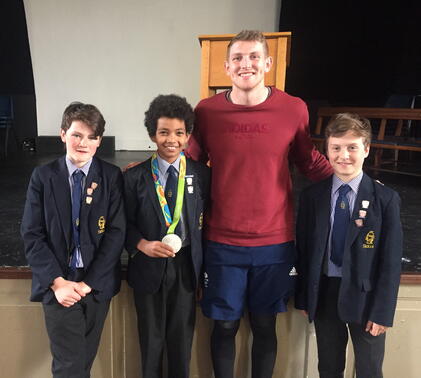 On Thursday 14 March the PE Faculty had an uplifting visit from England 7s and Bath Rugby's very own Ruaridh McConnochie. Ruaridh is a professional rugby player with years of outstanding experience, such as representing and picking up a silver medal for Team GB at the 2016 Rio Olympics and picking up a bronze medal at the 2018 Commonwealth Games with England.
His visit to the School was arranged by Mr Lock in an attempt to enhance our rugby 7s programme and increase morale in the lead up the annual Rosslyn Park School 7s Festival, in which Sidcot plan to take four teams over to London to compete next week.
Many of the students representing Sidcot next week joined Ruaridh in the Meeting House over lunch time to hear about his experiences, his journey and to quiz him on some good tips to take into the game of rugby 7s. This was followed up by an intense training session during periods 5 and 6 for students in the Upper Fifth and Sixth Form gents. They were put through their paces and took part in similar drills and activities that Ruaridh was put through as an international rugby player.
Hopefully the students involved feel that they have gained from the experience, as the general consensus in and around school is that it was a fantastic and unique opportunity which doesn't come around too often. It was an added bonus for the students, who got the opportunity to try on a silver Olympic medal and have their photos taken with an international star!
Lastly, good luck to all students who are representing the school next week. It is certainly worth considering the advice that Ruaridh gave, which I quote: "Our success as a team was never determined by the end result, but more so by what we achieved in the game and the unity in which we showed as a team."
Many thanks.

Matty Lock
Graduate Sports Assistant