3rd July 2020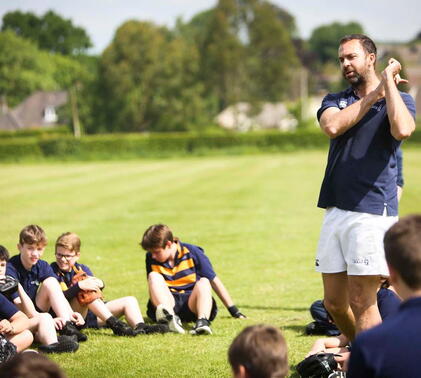 We have made some exciting appointments for our new-look PE Faculty Team from September.

Team members you know:
Rosie Bellinger: Teacher of PE, Games and GCSE PE, Girls fixtures coordinator, Head of Fourth Form
Alex Smith: Teacher of PE, Games and GCSE PE, Boys fixtures coordinator
Heather Barnes: Teacher of PE, Games, BTEC Sport and GCSE PE Lead
Liz Hawkins: Teacher of PE, Games and Weston and District 1st Team Netball coach
Matt Lloyd: Director of Sport

Joining us for September:
Alex Guthrie: Junior School PE and Sport Lead and teacher of BTEC Sport
Alex has joined us from her role as Director of Sport for the Park School. She enjoys most sports, walking her dog and travelling around Europe in a van with her family. We are excited to have Alex in the team to bring a dedicated and focused new direction for Junior School Sport.

Rosie Warwick-Brown: Sport Residential Graduate Teaching Assistant and Deputy Head of School House Girls. Rosie has recently been working as a Rowing Development Officer for Welsh Rowing. In 2019, she graduated with a degree in Sport Development from Cardiff Met University. Rosie enjoys travelling and spent a year and a half volunteering, working and travelling overseas. She has taken part in a World Record Hockey match and has competed in open water swimming races. Is a competent skier and enjoys hiking and surfing. Rosie is already an accomplished sports performer and leader and she will bring a new level of excitement for the girls in PE, Games and SHG!

Milo Cawkwell: Sport Residential Graduate Teaching Assistant We were really pleased to appoint Milo only last week and believe he will be a super addition to the team. Milo, a Graduate from Leeds Carnegie, has already spent a year at Sacred Heart College, Auckland - one of the premier Rugby and Cricket Schools in the New Zealand. He was humble enough to explain how he was thrown in the deep end and he worked alongside Tongan International Gus Ledger to coach the 1st XV. His cricket team also won the national cup.

Eva Gould: Junior School Graduate Assistant Another new role for Sidcot. In support of Alex Guthrie , Eva will be working to help the Junior School PE, Games and Sport enter an new era! Eva has just completed her A-Levels at Downside School and was very successful there not only academically but in playing and leading sports too. Outside of school she plays everything, Hockey, Rugby (for Somerset) netball, cricket. She will be a wonderful role model for our children.

Obviously we are sad to say goodbye to Sam Loud, Matty Lock and Immy Mills who have all, in their own way, been fantastic for the School, the Faculty and for the young people they have worked with. We will miss them greatly.
Matt Lloyd