8th March 2019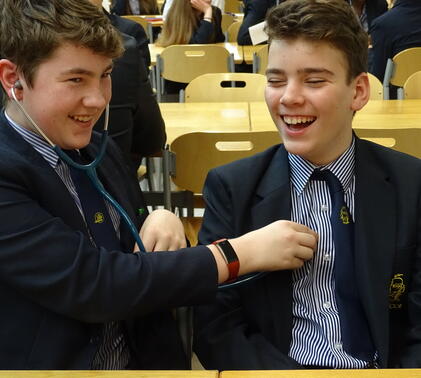 In support of National Careers Week 2019, the School arranged for the senior school to have a Careers Afternoon on Wednesday, 6 March. A varied programme of activities allowed each Year group to meet with representatives from the world of work and higher education – and gain valuable insights into various careers and pathways that could await them after leaving school.
The Third Formers took part in the 'Chocolate Challenge' and enthusiastically learnt what is was like to work in a business team, packaging and marketing chocolates! They produced an amazing array of beautifully packaged chocolates, all completely different, and then set about devising and delivering their sales pitch to an eager panel of judges. They all learnt more about the different job roles in a business as well as some important skills, not least of all, how to work in a team and collaborate.
Lower Fourth to Upper Fifth students were treated to Career Speed-Dating in the Refectory as well as an Ask the Panel session in the Meeting House. Both allowed students to hear first-hand about a range of career opportunities from our parents, ex-scholars and other volunteers. A wide range of careers were represented including a Zoo Vet, Rock Band Manager to Medicine and Acupuncture and much more besides. 
Our Sixth Formers attended a range of talks covering University Choices, Studying Abroad, Apprenticeships, Student Finance as well as Transition to University Life. We were fortunate to be joined by a range of expert speakers from the higher education and training sector. Our interns & recent graduates also provided valuable insights into what university life was like for them.
Overall, the day was a great success and gave students much to think about as they consider their own futures.