28th April 2019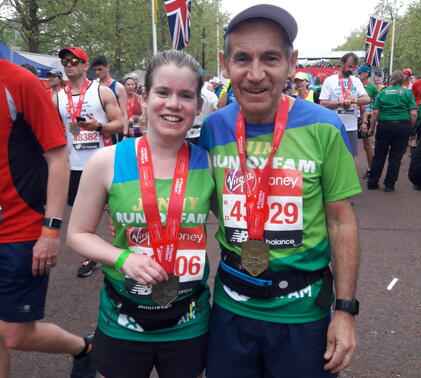 Jim Scott, Head of Science and DofE, completed the London Marathon in a time of 4 hours and 38 seconds. Running with his daughter Jenny he was lucky that the day was cloudy and cool, making for ideal running conditions. The support along the route was fantastic with several Sidcot past and present students and parents shouting encouragement.
Jim and Jenny were running for the charity Oxfam and are both well on the way to their target amounts of £2000. Jim raised a large part of his money through sales of Christmas Dance photos and the Golden Bunsen Burner treasure hunt. 
Jim is grateful for all the support and encouragement he has received from the Sidcot community. There is still time to contribute to the fund raising through either a cash donation to Jim or through his JustGiving page, which he will be happy to provide.
Well done Jim and Jenny!