1st February 2019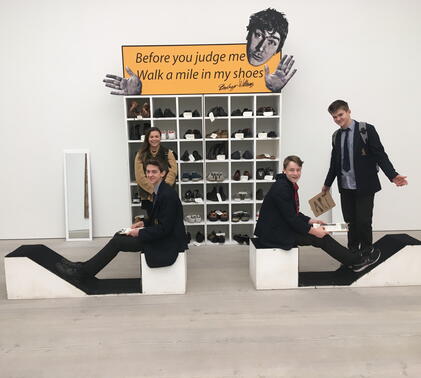 London Art Gallery Trip
Upper Fifth Art and Textiles students enjoyed an exciting day exploring some of London's best galleries. Beginning at the Tate Modern students gathered inspiration for the current exam project. We then went on to have led tours at the Saatchi and ended the day discovering some of the many treasures in the vast Victoria and Albert museum. Students will now begin creating their own art works which we look forward to showing in this year's summer exhibition. 
What the students said:
"The innovative use of oil paint, egg and glue to create paintings as used by Mark Rothko was inspirational for my exam coursework." 
Ella Kippax
"It was astonishing to see the works of Michael Angelou at the V and A which I had previously studied and stimulated my coursework."
Lucy Zeeman
"I really enjoyed the Saatchi as it showed me a side of photo montage I had not experienced before such as John Stezaker."
Oliver Southall