16th May 2019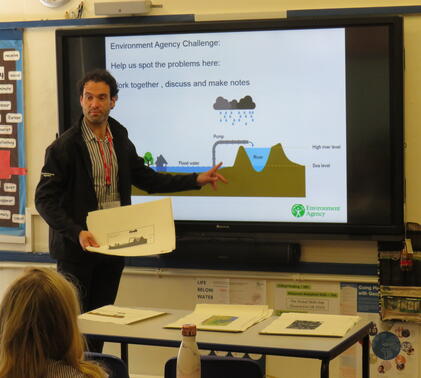 On Wednesday 15 May, Chris Kumeta from the Environment Agency came in to work with our Lower Fifth Geography students. They are currently studying rivers and Chris delivered an excellent and interactive session on the 2013/14 Somerset floods. He provided them with a unique insight into the causes, impacts and responses and has left them with a comprehensive case study that they can use for their exams. Chris' expertise and inside knowledge really added to the flair of the session and even taught the geography teachers a thing two!
The session also allowed the Geography department to meet the new Gatsby Benchmarks, introduced last year by the DfE to help schools deliver excellence in careers guidance.
Through the involvement of the Environment Agency, we have met Benchmark 4 – linking curriculum learning to careers, as well as Benchmark 5 – encounters with employers and employees.
We hope the session has inspired some of our geographers to consider a fascinating career working for the Environment Agency, applying their Geography skills and knowledge to help solve environmental problems like flooding.
Chris was very impressed with the knowledge and conduct of our students and hopes to partner with us more in the future.