30th April 2021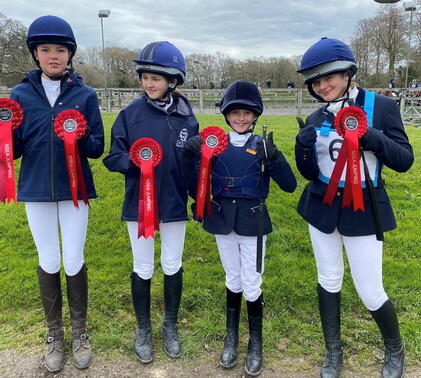 The 29th of March was a huge milestone for all horse riders and their equine partners, as It meant organised sporting competitions could resume! It had been a very long winter, with lockdown proving chaotic for some as fresh, excitable ponies that had to remain on their premises. Sidcot Equestrian riders had been keeping up all the hard work during this time and was truly evident when we arrived at our first competition of 2021; an arena eventing competition at Kings Sedgemoor Equestrian Centre. The Easter holidays continued to be rather busy for riders, horses and their parents as they travelled across the south west to clinch the remaining qualifying positions needed for the national championships. A brief summary of the competitions and results are as follows:
2nd April Arena Eventing Hickstead Qualifier- 70cm team 1st, 80cm team 2nd, 90cm team 5th and 1m team 1st. the 70cm, 80cm and 1m teams all qualified for the national championships at Hickstead in May as well as individual qualification for Olivia Banwell in the 70cm and Jonnie Lee in the 1m.
3rd April British Show jumping JFS- congratulations to Erin crofts who jumped a fabulous round in the 90cm class to finish 3rd individually.
7th April Show jumping Addington Qualifier- 70cm team 1st, 80cm team 1st. Both teams have therefore qualified for the national championships at Addington in October.
8th April Arena Eventing Hickstead Qualifier- 80cm team 2nd and 90cm team 4th. This then meant that we have qualified another team for the 80cm team and got a 90cm team qualified. Congratulations to Archie Stamp and Olivia Banwell in the 80cm.
11th April One day Event- Sophie Lee was the only Sidcot representative at this competition where she did amazingly well to win the 1m class!
17th April BS JFS Show jumping- 80cm team 2nd, a fantastic result but narrowly missing the direct qualification to the national championships so we are aiming for the next direct qualifier at Dorset Showground on the 3rd May.
We now have Sidcot representation in all classes, 70cm, 2x 80cm teams, 90cm and 1m at the arena eventing championships held at Hickstead from the 28th-31st May!
Congratulations to the following riders: Elsa Cardale, Hugo Blair, Archie Stamp, Daisy Bowles, Olivia Banwell, Hattie Raynes, Nelly Lee, Jonnie Lee, Sophie Lee, Erin Crofts and Ava Antonson.