16th May 2019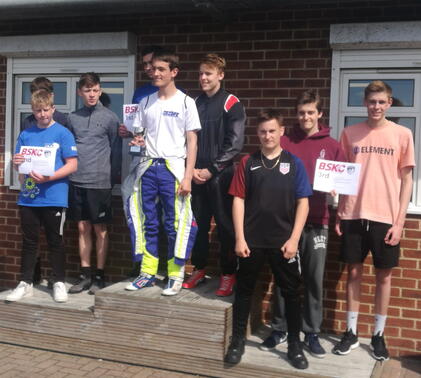 The challenge, having qualified through the regional finals, was now to qualify out of the 15 teams in the Southern Finals, five going through to the National Finals. It might sound easy, the rules are only one professional driver. However, that is defined as a MotorsportUK kart licence holder. The top three teams all have three drivers that drive karts on a regular basis: one licence holder, two other ex-licence holders that competed in National Motorsport and Europe just a couple of years ago, and another set that race Club 100 (Corporate Karts)... So to give them credit where it's due, these drivers are far from non-professional. However, we knew it would be an uphill battle.
Grid draws also play a part, and getting the right driver in the right grid slot to maximise those points is a gamble and caused quite a bit of stress on the journey to finally sort those out!
Grids 
Heat 1: 3rd Will Ford
Heat 2: 6th Harvey Lawrence
Heat 3: 2nd Riley Phillips
Heat 4: 14th Harvey Lawrence
Heat 5: 10th Riley Phillips
Heat 6: 13th Will Ford
Heat 1
Will took the nerve-wracking first heat and was surrounded by pro-drivers, Peter Symonds College and Hanley Castle B. He had a great race and showed great pace, after being slow in practice. I think he must have been sandbagging to get us all worried (well, me anyway!) and took third. What a great result.
Heat 2
Harvey, again surrounded by the same teams and pro-drivers, had his work cut out. He battled up to second at one point losing out to the pro-drivers in the end and brought home a very well deserved fourth place.
Heat 3
Riley stepped in to bag the win from the front row against an old foe from his karting days. Great results so far, but now the grids' start positions start moving back...
Heat 4
This would be a massive challenge from the back. As soon as Harvey took off from the line I knew we were in for a hard time as the kart just didn't move with any pace at all. Harvey got his head down and drove the wheels off what was clearly a duff kart, bringing back tenth.
Heat 5
Riley starting from tenth really needed to bring back a win to relieve the pressure from Will. The kart was medium in performance, and Riley had a hard battle coming through the pack and was left with too much to do to catch the front runner – one more lap would have helped! Second place is still a good result.
Heat 6
It was all down to Will Ford to better tenth place and give Sidcot a chance at qualifying from thirteenth on the grid. In the pressure again, Will put in the drive of the day and fought his way up to fourth with some excellent driving and pace, showing some great overtaking with an exquisite cut back, really skillful driving. With one dropped round I knew Sidcot were through with results (first, second, third, fourth and fourth) – we had to be in the top five!
The other two top teams both had driving penalties in one race giving them an effective black flag for driving standards and making them last. This gave Sidcot the highest gross total of points with the worse finish of tenth place being truly impressive. However, as the teams were able to drop this penalty round Sidcot came in third with just three points, covering the top three teams. What an amazing and very impressive result indeed! 
Results: 1st 94, 2nd 92, 3rd 91.
Amazing day, really well done to Team Sidcot!
Thanks to Sidcot for the support, BSKC National finals here we come.

Andy Phillips
Team Sidcot