19th June 2020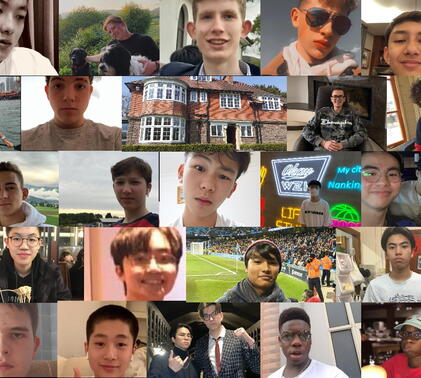 Wing News

The boys from Wing continue to connect with Sidcot from all around the world for their Online Supported Learning and to catch up at twice weekly chat times with their Wing friends. Some of our international boys are still in the UK with guardians and are looking forward to heading home for summer to reunite with family and friends.

Jamie Miles is preparing for a 50 miles in a week running challenge for charity. If that wasn't challenging enough, he's in the Lake District so the running will be far from flat. Talk on the Wing WhatsApp group has turned to thoughts of next term with discussions and negotiations ongoing regarding which room to have next year. It is heartening to hear the boys talking so enthusiastically about returning to school and although Wing is certainly easier to keep tidier without them here, I am looking to the hustle and bustle of having them all back again.
SHB and SHG News
Looking at my calendar on Monday, I realised that leavers' weekend was just round the corner. This is a weekend filled with wonderful events and emotions are always running high. The last weekend for our Year 13 and some of our Year 11 is very special. Writing messages in our boarders' leavers' book and signing shirts (as well as offering belongings that do not fit in suitcases and therefore are passed down years after years) has become customary. We only had a few Year 13 in SHB this year but SHG will see a lot more leavers this year. I think it is fair to say that all the Year 13 got on really well and the dynamic between them was one of the best I have seen for a long time.

As we will not be able to say our usual goodbyes face to face, I thought that I would write a few lines to sum up their time in SHB/SHG.
School House Boys House motto: "Every country, my country, every man, my brother". Our Year 13 certainly lived up to our house motto and the bond that they have developed has crossed borders and united cultures. Room A9 became their new HQ. Rintaro with his incredible DJ skills and Rafig, the first ever boarder from Azerbaijan and future bric-a-brac trader (!) definitely know how to throw a party! Rafig is also leaving his legacy as he introduced the cookie jar to the office (renamed Raf's jar in his honour).
Blazo, our Deputy Head of House, will forever be remembered as the most mysterious man in the house. Behind his enigmatic smile, he kept the rest of the house guessing what his next move would be! Lifeng, our very wise Head of house, stayed an extra month in SHB and was the last one to leave in April. I have never been prouder of my boys. They have shown through their time with us their loyalty to the house and have done their best to make sure that everyone felt included.
School House Girls motto: "Speak truth to power" Our motto represents rather well what it is like to live in a house with 50 other girls! Our girls are never shy to share their opinions with us so speaking truth to power comes rather naturally to them! We want to make sure that they grow into confident young women who will be able to convey their ideas and opinions in ways that will make them listened to and empower them to be examples to follow.
The fact that most of the girls applied to have a position as office holders and were successful is proof that their time in the house bore fruit. For our girls who joined us three years ago in Pathway and those who joined us 18 months ago, this is the end of a journey where they have learnt valuable life lessons and made friends for life.
I will definitely miss them all. Corridor D will seem a lot quieter without Jo An, Zita, Eureka and Kate. I can always hear them laugh as they are passing by my flat. I will definitely miss our chats in the office and cannot believe that after 3 years trying to teach me how to say squirrel in German, Merle is still disappointed with my performance! Hopefully next time we meet, I will have improved! I am sure that Jessie will not miss me trying to pronounce her surname every time I see her (I am now aware at how annoying it must have been!).
It's funny how many memories you create when you all live together. The girls from the house reading this will instantly know who I am referring to when I mention hair straighteners for example! What about "The Greatest Showman", coming back after 10pm from weekend leave, brilliant sense of humour, fashion guru, explosion of textiles material on the floor? I think all the girls will have recognised themselves. A special mention to Venus, who by leaving this year will definitely help reduce the food bill for next year! In my time in boarding, I have never met someone so small who can eat so much!!!
Goodbye Kate, Zita, Jo An, Eureka, Jessie, Ela, Jeanne, Merle, Alina, Sophia, Sima, Diana, Leni, Ruby and Venus. I hope that our paths will meet again very soon. Remember that once a SHG girly, always a SHG girly!