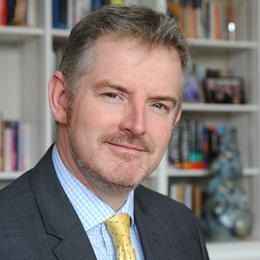 Headmaster
What led you to be a teacher?
Having started my career in banking, I decided to go to university to study my favourite subject at school, English. During the long summer holidays I went to America to work at a children's camp, teaching drama and being involved with boarding. I really enjoyed the experience and applied for teacher training when I graduated from university.
What's the best part of your job?
Lots! As Headmaster, I like being busy working in a whole range of different areas. However, I probably like meeting people best and in particular spending time with students and listening to their views. I also get to wander all over the school without being stopped! It's a great privilege and allows me to see students and staff working together, especially when my presence is undetected!
If you weren't a teacher, what would you be doing now?
Probably wearing a pin-striped suit and working in a bank. Hang on! I still wear pin-striped suits, but at least I have a far more varied and exciting job.
What's your most memorable moment as a teacher?
Very difficult to narrow down to just one. One of my previous jobs was a housemaster and I really enjoyed spending time chatting to the boys in my house, especially at the end of a busy day when things started to quieten down.
Do you live adventurously?
I try to and believe that you should live each day as if it's your last; making the most of opportunities and having a positive outlook on life.
What are you curious about?
A very good question! I think as I get older, I'm concerned about sustainability and how we can best steward the Earth's valuable, dwindling resources.
What's the best piece of advice you've ever been given?
Don't say yes in the corridor - from a fellow head. Don't go to sleep on an argument - from my father. 
How would you like to be remembered by your students?
As someone who works hard, tries to make a difference, is fair and can be quite a good laugh. 
What surprises you about Sidcot?
The amount that we manage to cram in to each day!
What makes you proud of Sidcot?
The students - they have boundless energy and a huge capacity for helping others.
If you had one word to sum up Sidcot, what would it be?
Community.
Who would play you in the movie of your life?
Ewan McGregor- another good looking Scotsman!