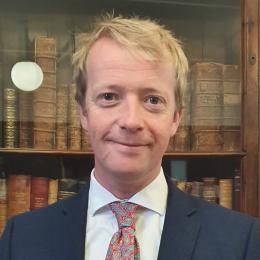 Governor
What do you enjoy about being a governor of Sidcot?
For me, being a governor is all about embracing the unique education on offer at Sidcot. Supporting the education of these wonderful students is exciting and incredibly fulfilling.
What do you do in everyday life?
I own two small businesses, primarily Rugbytots Somerset which provides fun, weekly rugby sessions for 2 to 7-year-olds across Somerset, including a very popular class at Sidcot Junior School. I also own an event and catering infrastructure hire business. These are growing and busy occupations but also flexible enough to enable me to support my young family and wife in her busy role as a house-mistress in another local boarding house.  
What's most important to you about being a governor?
I believe being a governor is about supporting the executive team, enabling them to inspire Sidcot students and provide the best possible care and education. I will provide constructive leadership and proactive support to my areas of responsibility, including fundraising, boarding and equestrian at Sidcot. 
What are you curious about?
I am very curious about the Quaker ethos and how this plays out in everyday life at the school, and how it subsequently influences the students as they progress through their adult lives.
What surprises you about Sidcot?
When I initially started exploring the school I was surprised by the extent of life and personal skills which are built into teaching and learning at Sidcot. I was also surprised by how the leadership team of the school maintain a close affinity and hands-on approach with the students.  
Do you think you would enjoy being a student at Sidcot?  And if so, why?
I believe that one of the most useful assets a well-educated student can have is a collaborative, community-minded approach, acting with integrity. This resonates with me and I would have thrived in a school which encouraged this. The Sidcot students also have every opportunity to develop new skills and succeed in their chosen discipline, they will undoubtedly cherish these opportunities for the rest of their lives.
What does Quakerism mean to you?
I am still learning about Quakerism, but my understanding is that it encourages thoughtfulness and a community-minded approach, with confidence to contribute in a constructive way. 
What's the best piece of advice you've ever been given?
The most influential advice I received is it to challenge myself every day, having the confidence to step out of my comfort zone and to learn from that. The best advice I've had is to make time to spend time with my young family.
If you had one word to sum up Sidcot, what would it be?
The first word which springs to mind is INTEGRITY, it is a trait which is evident throughout the school in the actions of pupils, support staff, academic staff and the schools' leadership!