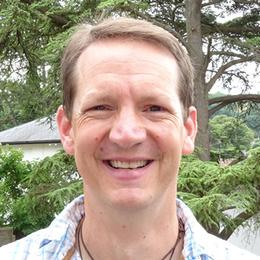 Govenor
What do you enjoy about being a governor of Sidcot?
As a Sidcotian, a member of the Sidcot Family (I attended Sidcot from 1986 to 1992), I have a real love for Sidcot. I love the events that happen during the school year, I love the feel of Sidcot as a location and as a collection of buildings, and I love the people of Sidcot – 'The Sidcotian Family'.
I am so pleased to be able to give back a little something of what Sidcot gave me as a pupil and to help Sidcot give to its current pupils, two of which are my boys, Will (Upper Fifth) and TomTom (Upper Fourth).
What do you do in everyday life?
I have an amazing job, I am an Acupuncturist. I am so lucky in that I have the opportunity to spend time with my patients, really getting to know where the root of their problems lie and then treating them to the best of my ability. To see a patient leave the clinic feeling happier, more comfortable or less stressed after a treatment is a real joy for me.
What's most important to you about being a governor?
At the moment the most important thing I need to do as a governor is to acquire knowledge by listening and watching what is going on already. What I am seeing and hearing is that things are good as they are, but there is always greatness to be achieved in all things. One of my favourite inspiring sayings from being a Cub Leader is "The difference between ordinary and extraordinary just that little extra."
What are you curious about?
I am curious about everything; every patient I treat, every story I hear, every parent I talk to, every turn in my life's journey. I was very lucky to have attended Sidcot School from Upper Fourth to Upper Sixth and even though we didn't have the printed tag line of 'Live Adventurously', we certainly did, and I still do, live life adventurously. 
Another feature that I have adopted is that there is good in everything and that there is always something to learn in every situation you get into in life, and that has stuck with me over the last 26 years.
What surprises you about Sidcot? 
When I walk into Sidcot – whether for a cup of tea on a Friday morning, to watch one of the fabulous plays or 'Let Your Life Speak' talks, or even to meet up with one of my link members of staff – what surprises me most is the feeling of being at home at Sidcot, the friendliness of the pupils and their parents and the openness of the staff. Long may Sidcot be that way.
Do you think you would enjoy being a student at Sidcot? And if so, why?
Most definitely. What would I give to be a Sidcot student again! The opportunities that are available to the Sidcot students are amazing, the facilities are always improving, but most of all the friendships that are forged in a school like Sidcot are for life. What I have since realised is these friendships are not bound by year groups – Sidcotian friends are a global Family.
What does Quakerism mean to you?
When I was at Sidcot the Quaker ways did have an effect upon me. Even though I did not really take the time to truly appreciate the beauty of the 'Quaker Testimonies', which are the values and principles central to Quaker faith. As time has progressed I have realised just how much these testimonies have affected me, guiding me through the decisions I have made throughout my life, in my career, my family decisions and attitudes towards life in general. Though I had not truly appreciated this fact until I started attending Meeting for Worship, and when I introduced my family to Sidcot.
What's the best piece of advice you've ever been given?
It was a very spiritual friend who shared the advice with me originally he said "Always see the good in all things, for the universe has placed them in your way for a reason." I see it is a blend between Quakerism and Spiritualism.
If you had one word to sum up Sidcot, what would it be?
Beautiful, Stirring, Inspiring, Home, Family, Island, Ancient, Protection, Sanctity, Outstanding, Peaceful, Friendship, Joy 
"Global"