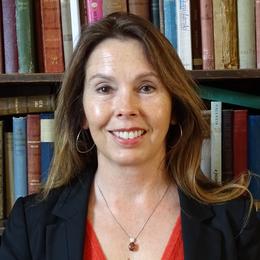 Governor
What do you enjoy about being a governor of Sidcot?
It's a long time since I've been in a school so I'm enjoying the learning
What do you do in everyday life?
I spend as much time as possible "playing" outdoors, building a garden in our new home. I'm also Chair of two national charities, Plant Heritage, responsible for the National Plant
What's most important to you about being a governor?
Young people build the future;  as a governor, I am able to offer my skills, experience and enthusiasm in support of a school dedicated to developing individuals that will have the knowledge and desire want to ensure that future is equitable, peaceful and sustainable
What are you curious about?
Everything – especially people
What surprises you about Sidcot?
When I was able to visit the school, I was certainly surprised by the school food, most especially the fruit that I saw everywhere.  Having been at boarding school myself many years ago, I'm sure we lived off crumble, custard and toast!
Do you think you would enjoy being a student at Sidcot?  And if so, why?
Definitely. There is an energy about the school with its international community and a very distinct approach to learning, encouraging independent thinking, creativity and building resilience.
What does Quakerism mean to you?
I came across Quakerism in the context of business and was impressed with some elements that I have found very helpful. Just one example, the idea that a majority vote leaves those on the "losing" side feeling that they haven't been listened to has led me to work harder in listening to all views and finding a way to proceed that all can agree on. 
What's the best piece of advice you've ever been given?
There's a crack in everything – that's how the light gets in (Leonard Cohen)
If you had one word to sum up Sidcot, what would it be?
Authentic