14th June 2018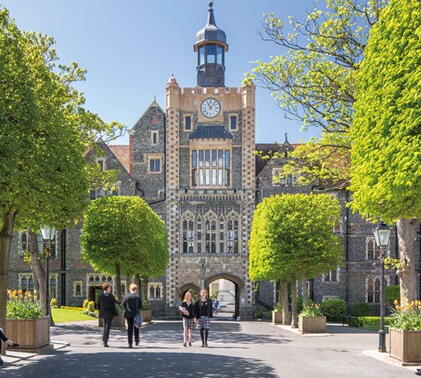 Annual Education Conference at Brighton College
May 2018
The trip to Brighton to the annual education conference hosted by Brighton College is always repaid with interesting speakers, lively debate and the rare opportunity for a head during term time to think! This year's conference delivered on the brief in every respect.
One of the things that confuses children most is when adults say one thing and then do something else. You can imagine, therefore, my interest in Nicky Morgan's address following her latest book Taught Not Caught: Educating for 21st Century Character.
Claiming to be a 'One Nation Conservative' in the ilk of the nineteenth century Prime Minister Benjamin Disraeli, as Secretary of State for Education she continued Michael Gove's skulduggery in reforming GCSE and A Level courses: squeezing out any creativity and independent thinking and replacing it with doctrinaire rote learning worthy of Charles Dickens' Thomas Gradgrind, in his insightful polemic on the state of the Victorian education system, Hard Times.
Yet, away from the DfE, it appears Ms Morgan has had a Pauline conversion to the virtues of investing in the character of a young person as well as their academic development. She laudably highlights the work of practitioners currently working in this space and concludes that "Every child deserves to gain both great knowledge and character… in environments with a clear values-driven ethos." 
Well guess what, former Secretary of State, this has lain at the heart of schools' missions in preparing their pupils for the complex and complicated world they will face beyond the classroom for years despite – rather than as a result of – Government policy.
Whilst the conference delegates listened patiently, there was a sense of Granny being taught how to suck eggs as Nicky Morgan seemed patently unaware of the prominence of developing character in all schools and particularly those like Brighton College and my own school, Sidcot School a Quaker school outside Bristol, who have an extensive range of co-curricular activities to develop the skills of tenacity, grit and resilience which appeared to be her 'words for the day'. Sidcot has been doing just that for over three hundred years and our students leave not with a sense of entitlement but with a real determination to do good with their lives in the world beyond school.
However, there was a dogged refusal for her to take any responsibility for the parlous state our education is in with SATs in primary schools and GCSE and A Level reverting back to the teaching to the test of the mid-Eighties. Rote learning, memory testing and regurgitation in an exam is the complete opposite of what a values-based, character education is about and stands in the way of creativity, self-expression and development of the soft skills being cried out for by higher education institutions and employers. Yet this was conveniently air-brushed out of Ms Morgan's address as she painted sunny uplands that already exist.
What young people really need is time to grow up rather than have their childhood dominated by endless tests and exams. No-one has ever disputed the need for a rigorous assessment system underpinned by the transfer of knowledge and understanding. But that's only half the story of the experience a young person should be given at school. The chance to be creative, learn to express their own views and respect those of others, take risks and learn from mistakes – all these are what contribute to confident, well-balanced and, above all, happy young people who will take the challenges of a highly-paced, constantly changing world in their stride and make a transformative difference to society.
I don't accept the management adage that 'what gets measured gets done'. It's far too blunt a principle to be applied to education. Schools are not manufacturing plants and children are not units of production. Nicky Morgan accepted that the current system is easy to quantify – particularly as the majority of GCSEs being sat by students as we speak will be under the new 9 to 1 grading system. How do you apply this to creativity, to critical thinking and to mindfulness – core activities in my school, that enrich the experience of our students, yet won't feature in any league tables produced by the DfE?
Dickens' novel opens with the lines, "Now, what I want is, Facts. Teach these boys and girls nothing but Facts. Facts alone are wanted in life. Plant nothing else, and root out everything else." If looking for nineteenth century wisdom, Nicky Morgan and Damian Hinds, the present incumbent at the DfE, really ought to read Dickens as well as Disraeli. The way towards one nation equity for our young people has to lie in true engagement with the process of education and delight in the miracle that is childhood. I'm not suggesting that facts aren't important, but they need to combine with compassion, empathy and wonder.

IWK – May 2018

Photograph (above) courtesy of Brighton College
This article featured in the Brighton Argus on 12 May 2018 (below)